Local mask mandates have ended so masks are not required, but are available if desired. Ask about masks at the office or on the bus.
Pro tip: save time by downloading, printing, and signing the waiver before you arrive.
We're just 45 minutes from Madison and Janesville, 20 minutes from Monroe, New Glarus, and Monticello, and about two and a half hours from Chicago.
How it works
S&B Tubing is located right on the Sugar River so your trip begins when you arrive. You float from our shop in Albany to a designated location about four miles South along the river. When your excursion ends S&B staff will be there to help you with your equipment and belongings, and direct you to the next available shuttle bus.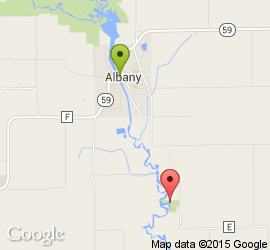 Kayak trips take about an hour and a half while tubing takes around three hours forty five minutes. All all of these times are approximate and subject to change based on the depths of the river. S&B Tubing will be able to give a more accurate timeline for your trip upon your arrival.
The water levels do vary, but on average the water is fairly slow moving and easy going. As for the depth, for the most part if you fall out, you can stand up but it is a natural river and there are some deep spots. The water is safe for children of any age, but adult consent and signature is required for anyone under the age of 18.
Please note: we do not provide shuttle rides for people who bring their own equipment.
The rules
Glass and Stryofoam coolers are not allowed on the river.
All coolers are subject to search by S&B staff.
Everyone must return with their equipment by 8:00 pm, or it will be assumed that they have arranged their own means of transportation.
All land along the river is private property, and Wisconsin's DNR has established a "wet foot rule" in order to reduce the amount of trespassing.
History & Wilderness
S&B Tubing has been family owned and operated for more than 15 years.
Please come tube or kayak with us along the beautiful Sugar River. There is an abundance of wildlife along the way including bald eagles, deer, beavers, turtles, frogs, and lots of birds. Please help us maintain the natural beauty and habitat provided by the river.
---